Who REALLY directed "Poltergeist?" (Page 1 of 3)
"The most startling rumor about the film-that it was actually directed by Spielberg-does seem to have basis in fact. All the crewmembers we have spoken to say that Spielberg was very active on the set, to the point where he should at least be considered co-director, though Tobe Hooper will have the sole director's credit."
-From an early 1982 issue of "FANGORIA," before the film's release.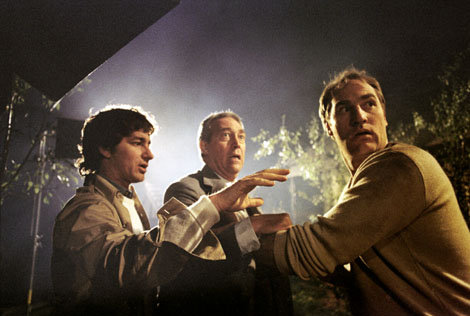 Above, Steven Spielberg gives (direction?) to Craig T. Nelson and James Karen in the film's climax.
"Tobe isn't what you'd call a take-charge sort of guy. He's just not a strong presence on a movie set. If a question was asked and an answer wasn't immediately forthcoming, I'd jump up and say what we could do. Tobe would nod agreement, and that became the process of the collaboration. I did not want to direct the movie-I had to do 'E.T.' five weeks after principal photography on 'Poltergeist.'"

"My enthusiasm for wanting to make 'Poltergeist' would have been difficult for any director I would have hired. It derived from my imagination and my experiences, and it came out of my typewriter [after re-writing the Grais/Victor draft]. I felt a proprietary interest in this project that was stronger than if I was just an executive producer. I thought I'd be able to turn 'Poltergeist' over to a director and walk away. I was wrong. [On future films] If I write it myself, I'll direct it myself. I won't put someone else through what I put Tobe through, and I'll be more honest in my contributions to a film."
-Steven Spielberg made the above comments to writer Dale Pollock in a May, 1982 interview with the "L.A. Times." He also said that he "designed" the movie through story boards and that he was involved in all the camera setups and the designing of the specific shots. Spielberg went on to say that his intense involvement with the film came from his commitment to MGM to bring the production in within 10% of its approved budget of $9.5 million (it ultimately cost $10.8 million). This newspaper article was published before the film was even released, and it gave voice to the numerous rumors that were already circulating in Hollywood that Spielberg had largely supplanted Tobe Hooper as director during filming. Largely due to this article, the DGA began an investigation into Spielberg's statements. On June 2, 1982, Spielberg would issue an apology of sorts in a letter to Hooper, which was published in "Variety":
"Regrettably, some of the press have misunderstood the rather unique, creative relationship which you and I shared throughout the making of 'Poltergeist.' I enjoyed your openness in allowing me, as producer and writer, a wide berth for creative involvement, just as I know you were happy with the freedom you had to direct Poltergeist so wonderfully.Through the screenplay you accepted a vision of this very intense movie from the start, and as the director, you delivered the goods. You performed responsibly and professionally throughout, and I wish you great success on your next project."
Spielberg attempted further damage control when he wrote a letter of clarification to "Time" magazine for their June 21, 1982 edition (in response to comments he made in an interview with them the prior issue):

TIME has made E.T. and me very happy. However, a comment slipped in that is unfair to Tobe Hooper, the director of Poltergeist. I am quoted as indicating that I took over the project. While I was creatively involved in the entire production, Tobe Hooper alone was the director.
-Notice how he says his comment about "taking over" the film "slipped in" (during the prior interview). He doesn't deny making the comment.
In a July 1982 AP article after the film was released, Jobeth Williams was asked about the issue:
But according to Miss Williams and other industry insiders, the directing job was more of a collaborative effort."Steven (Spielberg) was there every day," said the Texas-born actress. "He had very clear and strong ideas about what he wanted done and how he wanted it done. "Even though Tobe was there and participating," she added, "you felt Steven had the final say on everything." The actress says that in the initial days of shooting there often was confusion with two people giving conflicting directions. "Sometimes Steven would tell us one thing and Tobe another," Miss Williams said. "But they soon realized that was doing us more harm than good, so they stopped. Later on, whatever discussions Tobe and Steven had, they held in private and then came to us with their decisions."
In 2000, Tobe Hooper was asked about the controversy in an interview with the "AV Club" web site.
Full interview here.
Excerpt:

O: How did you come to direct Poltergeist?
TH: I'd known Steven Spielberg from the time I came to L.A. He and I were talking, and I said I wanted to do a ghost story. And he said, "Cool." I mean, I don't know if he said "cool," but he said let's do it. I mentioned The Haunting, the Robert Wise film, and that had also been a favorite of Steven's when he was growing up. So it came out of that moment.
O: History has shifted some of the credit toward Spielberg. Can you set the record straight on that?
TH: I've kind of talked that one to death, really. I've been asked that so many times that I feel the record should be straight already. The genesis of it came from an article in The L.A. Times: When we were shooting the practical location on the house, the first two weeks of filming were exterior, so I had second-unit shots that had to be picked up in the front of the house. I was in the back of the house shooting Robbie [actor Oliver Robins] and the tree, looking down at the burial of the little tweety bird, so Steven was picking those shots up for me. The L.A. Times arrived on the set and printed something like, "We don't know who's directing the picture." The moment they got there, Steven was shooting the shot of the little race cars, and from there the damn thing blossomed on its own and started becoming its own legend. Really, that is my knowledge of it, because I was making the movie and then I started hearing all this stuff after it was finished. I really can't set the record much straighter than that, because Steven did write the screenplay and there are other credits on there, but it came down to Steven and myself sitting at his house. He wrote the screenplay, and we gathered around a poltergeist textbook for the research, which was actually Robert Wise's research book that he had on The Haunting. When I got my offices at Universal, a couple of books had been left behind. Robert Wise had just moved out.
************************
However, the "L.A. Times" article Hooper mentions above actually went into much more detail than he claimed. It's the same article in which Spielberg made the statements that spurred the DGA inquiry. Some additional excerpted quotes from the article follow. You can purchase a copy of the full version ('POLTERGEIST': WHOSE FILM IS IT?)
here
.
******************
Tobe Hooper (saying he did everything his contract as director required of him)
"I don't understand why any of these questions have to be raised. I always saw this film as a collaborative situation between my producer, my writer, and myself. Two of those people were Steven Spielberg, but I directed the film and I did fully half of the story boards. I'm quite proud of what I did...I can't understand why I'm being slighted. I love the changes that were made from my cut. I worked for a very good producer who is also a great showman. I felt that was a plus, because Steven and I think in terms of the same visual style."

Jobeth Williams
"It was a collaboration with Steven having the final say. Tobe had his own input, but I think we knew that Steven had the final say. Steven is a strong-minded person and knew what he wanted. We were lucky because we got input from two very imaginative people."

Craig T. Nelson
"Tobe gave me a lot of direction. It's not fair to eliminate what Tobe did-he gave me a tremoundous amount of support because he's a warm, sensitive, caring human being. Tobe was simply pushed out of the picture after turning in his cut."

Bill Varney (Sound Mixer), said he had no contact with Tobe:
"He [Tobe] dropped by one or two times, but he had no input whatsoever as far as our (sound) work was concerned. Basically, Tobe didn't particpate at all."

Dennis E. Jones (Production Manager)
"Some directors kick the producer off the set. In this particuluar case, that didn't occur. It was an amicable situation-Tobe seemed to resolve Steven's participation in his mind. But I'm sure inside he was hurting."

Mike Fenton (Casting Director)
"Did he [Tobe] direct the film? Not that I saw."

Jerry Goldsmith (Composer), says he worked exclusively with Spielberg. He said the situation was "unusual, because 99% of the time I work with the director."

Willie Hunt (Production Executive who was working with United Artists but had supervised "Poltergeist" when she was with MGM)
"Both people were on the set all the time, and Tobe was very much involved, as far as I could tell. But Steven was the creative force in my opinion; his stamp is on the film, even though there was a good, solid competent director there."

Frank Marshall (Producer)
"It all depends on your definition of director. The job of the producer is to get the film finished, and that's what we did. The creative force on this movie was Steven. Tobe was the director and was on the set every day. But Steven did the design for every story board and he was on the set every day except for three days when he was in Hawaii with [George] Lucas."

Also according to Marshall, Hooper handed in his cut of the film on October 17, 1981, and was virtually not involved in any post-production work until he screened the movie on April 17, 1982. Spielberg and Marshall denied that Hooper was denied access to or control of the film at any stage.

And finally, from the article, when talking about how Spielberg's contract with Universal forbade him from working on any other picture while directing "E.T.":

"Even had it not, Directors Guild rules prevent anyone assigned to a production prior to a director being fired from replacing the director-including the producer. 'There is a director of 'Poltergeist' and he is listed as Tobe Hooper,' said Michael Franklin, national executive secretary of the Directors Guild. 'If something is going on that dereogates that credit, the guild would be concerned.'"

In addition, here's some info I received from someone who at one time had planned to write a book about the making of "Poltergeist":

I even did interviews with James Karen, Zelda Rubinstein, Jerry Goldsmith, and started an aborted one with Craig T. Nelson. Long story short, but some forces at Amblin threatened (or hinted at) legal action about the book. So my publisher dropped it, and I went on to do [another book].

Anyway, the interviews were interesting -- I still have them on cassette tape. Particularly the whole 'Who really directed 'Poltergeist'' thing. Rubinstein was hilarious -- 'Tobe Hooper couldn't even direct traffic!' -- while James Karen was all pro-Hooper. Goldsmith claims he never even met Hooper, only Spielberg. Nelson was just a jerk, quite frankly.

Here's an excerpt from producer Julia Phillips' book "You'll Never Eat Lunch in this Town Again":

Steven takes a tentative puff on my joint, coughs, and passes it back to me. We haven't spoken in four years, but we have run into each other on the MGM lot, where he is directing "Poltergeist." He is supposed to be producing it, but Tobe Hooper, the director, it is whispered, has lost his cookies and Steven has had to step in. I wonder if Steven has been the first to whisper the Hooper rumors. It would fit his m.o. We are acting as if nothing bad ever happened between us, and Steven has walked back to my set of offices with me, the ex-offices of Louis B. Mayer, which I have defiled with acres of chintz. Steven has asked for the joint, which surprises me, he is such a straightnik. Maybe it is his way of getting along with me on my terms. We hang out for a considerable period, and I am furious the entire time. I don't indicate this externally at all, so I am working on a hell of a stomach ache. Thank God there is no Sara Lee anything around. "Yup, all hell is gonna break loose in this room," Steven says. "We're gonna rotate the whole room day after tomorrow..."

........

"You should come by and see it..." he says now.


Julia went on to say she'd visit the set, but apparently never did.

Zelda Rubinstein would say this about the issue in a 2007 AICN interview: http://www.aintitcool.com/node/34266
Quint: There's one thing that I'm really curious about. Being an Austinite I've run into Tobe Hooper and I've talked to him at length about his work on POLTERGEIST and I brought up the big rumor that Spielberg came in to direct it and kind of took over. Tobe was very adamant that he directed the film.
Zelda Rubinstein: I can tell you that Steven directed all six days I was there. I only worked six days on the film and Steven was there. Tobe set up the shots and Steven made the adjustments.
You're not going to hear that from Tobe Hooper, you'll hear it from Zelda, because that was my honest to God experience. I'm not a fan of Tobe Hooper.
Quint: You're not?
Zelda Rubinstein: No, I'm not, because I feel he allowed… I don't know how to say this… he allowed some unacceptable chemical agents into his work.
I felt that immediately. I felt that when I first interviewed for the job. Steven was there, Tobe was there, two casting people from MGM were there and I felt at that time Tobe was only partially there.
As Zelda implies above, persistent rumors about Tobe's alleged substance abuse at the time (and possible entry into rehab after the film finished shooting) have circulated for years. Author John Baxter, in the unauthorized biography "Steven Spielberg," writes on page 250 about cocaine use in Hollywood: "Rumours also spoke of its wide-spread use on the set of Poltergeist." Who was allegedly engaging in this widespread use was left unsaid.
Baxter also interviewed Jerry Goldsmith, who stated "I worked only with Steven. One day Hooper came into a screening and sat down. Steve just ignored him, and after five minutes he got up and left." [Goldsmith's] estimate of the shooting: "Hooper said 'Action' and that's the last thing he did."
Writer David Giler of "Alien" fame was an extra in the football scene early in the film, along with Spielberg's agent Guy McElwaine. Quoted in Joesph McBride's book "Steven Spielberg-A biography," Giler states "When I came back from the set, I said 'Well, now I know what the executive producer does. I've always wondered. He sets up the camera, tells the actors what to do, stands back, and lets the director say 'Action!'" Another person who visited the set told McBride that it was "uncomfortable," since whenever Hooper would give an instruction to cinematographer Matthew F. Leonetti, Leonetti would look over his shoulder at Spielberg, who would either shake his head or nod.
At a 25th anniversary screening of the film I attended in Santa Monica, I recorded a panel discussion in which the "who really directed it" question was asked:
As you'll see in the clip, Mark Victor and James Karen sort of tap danced around the question and offered "politically correct" statements, but Zelda was more than happy to say that she "had a slightly different view." She explained how during the 6 days she worked on the film, Tobe would line up the shots, but Steven would "make final adjustments." In conclusion, she said "Tobe was the nominal director...but this was a Steven Spielberg film" (to the sounds of applause from the audience).
Clip: http://video.google.com/videoplay?docid=4099450078852807092
Continued here.......